I find sometimes a podcast will touch on a topic but may not go as in depth as I may want, and I'd be curious about the topic until I found a book or a link to answer the question.
I believe If your curiosity has increased while listening to The History of Pirates Podcast, or if you want to read along, or even read ahead…. This is the place to get sources and information about more Pirate knowledge…
---
BOOKS – Non Fiction 
You can find a lot of great books online, but here are a few of my favorites over the years. I won't mention all of them by all the authors, but keep in mind that these authors have most likely written other awesome books on pirates as well.
Daniel Defoe
– A General History of the Pyrates:
From their first rise and settlement in the Island of Providence, to the present time.
ISBN: 9781495469732
This has been a favorite of mine for ages and is seen as the grandfather of a lot of Pirate Books. It helped fuel the curiosity of Pirates since it was released in 1724.  Its stories fascinated generations and helped inspire some of the greatest Pirate novels ever, including Robert Louis Stevenson's Treasure Island. 
Colin Woodard
– The Republic of Pirates:
Being the True and Surprising Story of the Caribbean Pirates and the Man Who Brought Them Down
ISBN: 9780156034623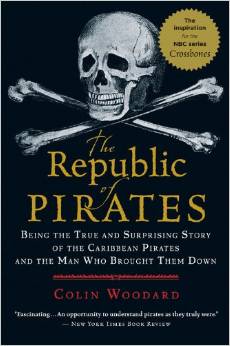 I've always been drawn back to this book and have read it many times.  Colin is able to tell such a great story and has done a lot of great research.  When I used to work at a book store here in Canada, I used to recommend this book all the time, and still do.
If you haven't read this book at least twice, you need to pick it up.
David Cordingly
– Under The Black Flag:
The Romance and the Reality of Life Among the Pirates
9780812977226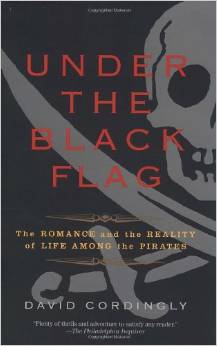 This book tells a great story and is really hard to put down. It covers aspects of Pirate life that i find fascinating and I'm sure I'm not the only one. If you've ever wondered why a Pirates do certain things, why they wear what they do, and act how they act…this book will teach you the ways of the Pirate.  If you want to be a real Pirate, you need to read this book.
– Pirate Hunter of the Caribbean:
The Adventurous Life of Captain Woodes Rogers  
9780812980172
If you've read any Pirate books before, you've most likely heard of this Woodes Rogers fellow before.  However, this book will teach you who he was before he took down the Pirates of the Caribbean. It covers the highs, and lows, of his life and sheds a different light on the Pirates who he had to bring under English Rule. It was hard, but if anyone can do it…its Woodes Rogers.   
 Angus Konstam
– Pirates:
The Complete History from 1300 BC to The Present Day  
9780762773954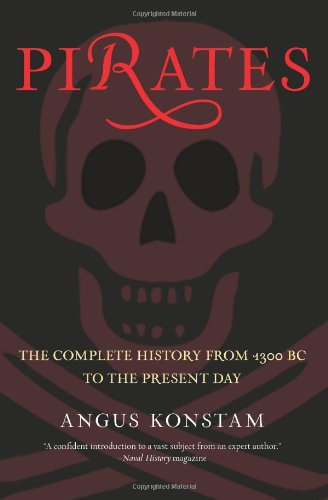 Another one of my all time favorite books on Pirates.  It covers Pirates as far back as the Sea Peoples and all the way to the Present Day.
I have recommended this book to friends, and even given one away as a gift.   Check it out if you want a book that looks over all the pirates from all times and places. Its a must read!
– Blackbeard:
America's most notorious Pirate 
9780470128213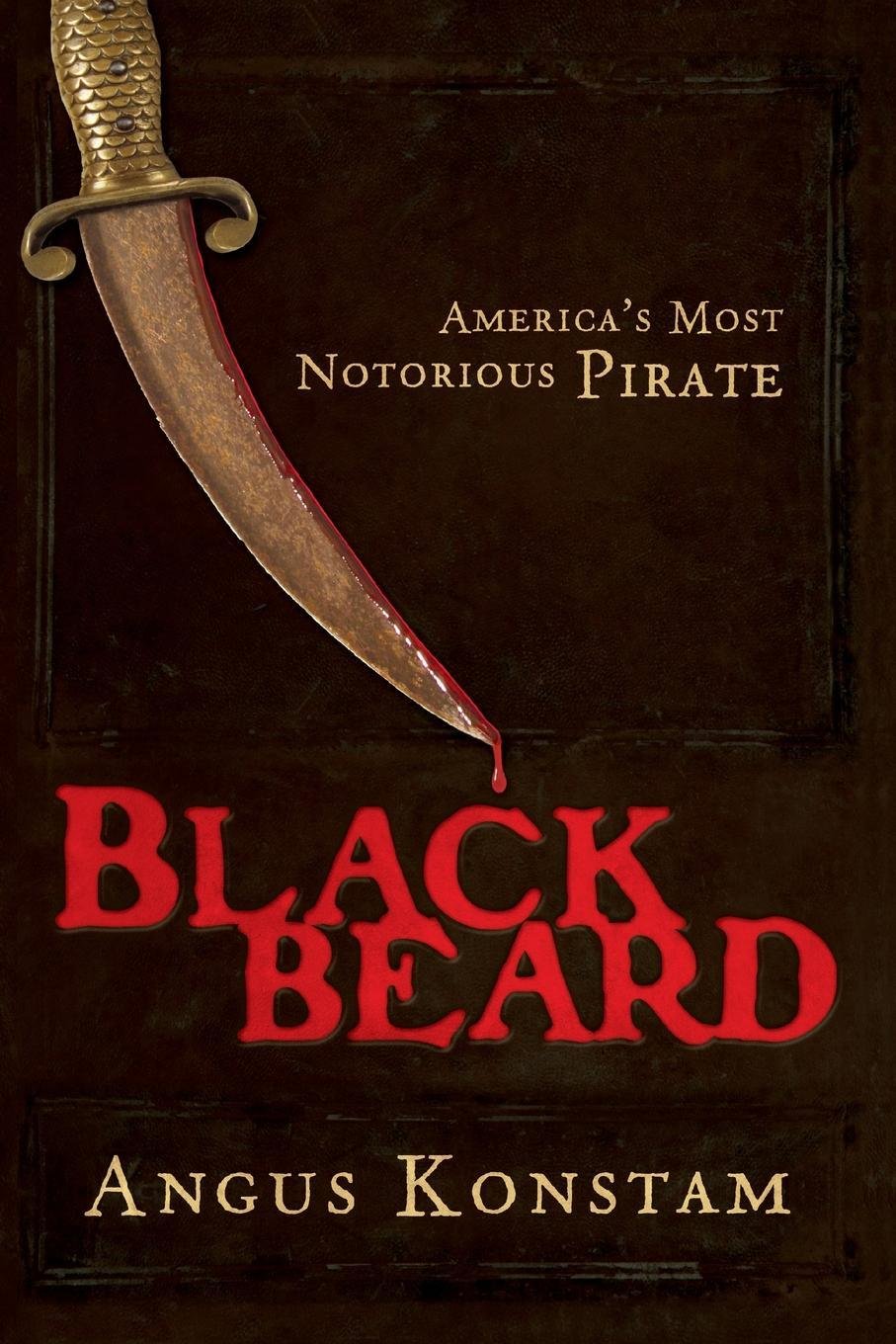 This book is on Blackbeard, one of the most notorious pirates of all time. What more could we ask for? Blackbeard has always been one of the most well known pirates ever, and Angus covers everything from basic information to the more in depth stories about Blackbeard.  Learn the Truth from the Myths and Rumors, and enjoy the read at the same time.  Enjoy!
Gail Selinger with W. Thomas Smith Jr
– Complete Idiot's Guide to Pirates: 
Fascinating facts about the world's most infamous pirates 
9781592573769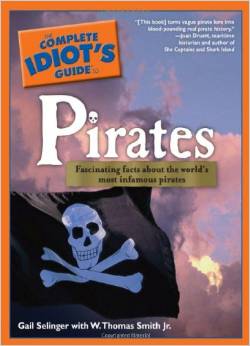 I  need to put this on my list of favorite pirate books because its awesome!  It's one of the first pirate books i ever read when I was younger, and have since read over it many times.  Having worked in a book store, I'd always recommend the Complete Idiot's Guide books because they were easy to understand, funny and explained a lot of information. If you want to learn the basic of Pirates, or have someone who wants to learn about them…this is a great first book. 
Richard Zachs 
– The Pirate Hunter:
The True Story of Captain Kidd
978076865338

Richard Zacks takes on the True Story of Captain Kidd. I like this book because its taking a deeper look at Captain Kidd and the charges for Piracy brought against him.  Its detailed and catches the readers attention right away.  Captain Kidd has always been a fascinating Character, and this book takes a good hard look at him.  Fun read, definitely recommend. 
---
BOOKS – Fiction 
I think only reading the real pirate stories isn't as fun as also losing yourself in Pirate Fiction.
Some of the most popular Pirate stories, myths and legends were created and fueled by fiction books like Robert Louis Stevenson's Treasure Island and Daniel Defoe's Robinson Crusoe. These books are a great way, even today, to get people interested in Pirates.  I'll cover others here as well as they come up.
 Robert Louis Stevenson
– Treasure Island
9780486275598
This book is a one of a kind Gem.  It mixes treasure maps, a dangerous sea journey into the Spanish Main, and a Pirate Mutiny just to name a few things. It helped create a lot of the myths and legends of Pirates and brings the reader along for the ride looking for buried treasure.
Daniel Defoe
– Robinson Crusoe.
9782070418220
This book takes you into a world of the unknown and ever since it was published in 1719 it was an instant hit. People felt ( and still do ) that the writing and information written is so well done it feels like it's a real person.  Which makes sense since it was in fact, based on true events and the inspiration Defoe had from the Scottish sailor named Alexander Selkirk.  Selkirk was rescued by the one and only,  Woodes Rogers in 1709 after spending four years on an uninhabited island off the Chilean Coast.   Read.This.Book. Is all i can say.  
---
VIDEO GAMES 
My generation ( and Most likely yours ) have grown up with Video games, and over time they have used Pirates as an inspiration. With how amazing the graphics are on the newest video game devices ( PlayStation 3, and 4, and Xbox 360, Xbox One , Wii U), its something that can be used to not only give pleasure and an escape from reality, but also teach people and plant interest in a subject.
Assassin's Creed IV: Black Flag
Developed by Ubisoft Montreal and Published by Ubisoft
I've been waiting for this game to be released since I heard about it a few years ago.  It was released in October 2013 and takes the player INTO the Golden Age of Piracy in the Caribbean. You get to visit major cities like Nassau, Havana, and Kingston, along with much more.
For instance, if you know Kingston, then you'll remember that Port Royal was the original settlement destroyed in an earthquake in 1692.   Well, not only can you see the destroyed town, but also explore it. 
It allows you to visit and explore sea forts, Mayan Ruins, Shipwrecks, and Sugar Plantations. This game is not only fun, but if you want to get a real feel for what things looked like and sounded like back then, this game will show you. It seems so authentic, you'll lose yourself listening to the  classic Sea Shanties on the way to a battle with a British Ship…or Four.    For anyone interested in Pirates, you should take some time and play this game and explore the world of a Pirate.
Sid Meier's Pirates !
Developed by Firaxis Games and Published by Atari
This was the first game i ever found about Pirates and i was obsessed. It was released in 2004, but was a remake of the earlier 1987 game also called Sid Meier's Pirates!  It was released on the computer as well as the Xbox around a year later. You can build a crew, collect ships and build an army to capture forts. It was way ahead of its time and you can explore almost the entire Caribbean looking for loot and treasure ships.  If you happen to have an Xbox or find this game for your computer, you should play it right away. 
---
TELEVISION SHOWS
Pirate Stories make for great movies, and TV shows, and I wanted to point out a few that I highly recommend.  Now, this for sure isn't all the shows and movies around, but I'll add to them as I go. For now, these are some of my favorites, and you should take a look at them if you haven't already.
Black Sails 
Developed for Starz Network and Created by Jonathan E. Steinberg and Robert Levine
I heard about Black Sails coming out, but It still blew me away when i finally saw it. They have finished Season 1 and currently working on Season 2, which i head a release date of January 2015.  ( But Don't Quote me on that. )  I've also read that they've already renewed for a 3rd season, which is good to hear since its such a great show.
It's an American Dramatic Adventure Series set on New Providence Island and is a PREQUEL to Treasure Island written by Robert Louis Stevenson.
( How cool is that? )
It follows the events of Captain Flint about two decades before the events on Treasure Island took place, and is taking place during The Golden Age of Piracy.
You follow Captain Flint and his crew, as they work with others to protect and fight for New Providence Island.
You will meet fictionalized versions of Real Life Pirate Legends such as Charles Vane, Jack Rackham ( One of the Best Characters In my opinion ), Anne Bonny and Benjamin Hornigold.  
You should watch the entire first season when you get a chance, and be ready for the second seasons release!
Crossbones
Developed for NBC and was Created by Neil Cross, James V. Hart and Amanda Welles
The series is based on the book The Republic of Pirates by Colin Woodard ( Mentioned Above )
Crossbones is an American television series which came out in 2014, following the legend BLACKBEARD himself, after he was presumable "killed" by Lieutenant  Robert Maynard on November 1718.
It's now 1729 and Blackbeard, calls himself "Commodore" and  is helping run the island of Santa Compaña.
The island is  home to pirates, thieves and cutthroats all ruled by the feared Pirate Captain…
Oh, I don't know if you realized who's playing Blackbeard, but its the one and only John Malkovich !
He's one of the best, playing one of the best, so its a perfect fit for a Pirate.  
---